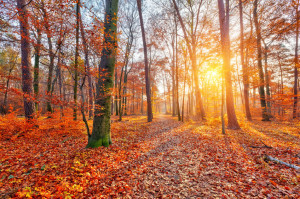 Are you shocked that fall is already moving in? You may feel like your entire year has been shifted a bit, right? Even though many aspects of life are still different and we're faced with a lot of unknowns, you can still enjoy the autumn season. Here are some ways:
Take your breaks outside! In the summer heat, it may be difficult to enjoy coffee on your porch or a walk through the neighborhood over lunch. Now is a perfect time. Skip your morning news routine and take your coffee outside! In the middle of the day, even a brisk five-minute walk can rejuvenate you for the next item on your to-do list. Don't forget to incorporate this for all your family members still working and learning at home.
Incorporate local produce! Fall foods are more than just pumpkin spice coffee. Take the time to check out your local farmer's markets or produce stands. They will often have fresh local produce specific to your region and climate. Even if you don't enjoy cooking, now is a great time to try some new recipes. If you have some "helpers" at home, make them a part of the process too. Not sure what to make, a quick Google search of your ingredients and "recipe" can provide ample options.
Be introspective! Just as the seasons change, so do our own lives and priorities. This year has really taught us that. Take this autumn season to decide what is important to continue and what needs to be changed in your life. Changes don't have to be huge to make an impact on our lives. Even the small ones make a difference.
Stay calm! As the days, weeks and months have put a lot of strain on each of us, remember to stay calm. Take the time to breathe, relax and enjoy the many aspects of life this fall season. Continue to be patient with friends, family and even strangers.
Rely on us!
As you work through your drug development and drug metabolism projects this fall, don't be afraid to rely on us. We are simply a phone call (610-296-3152) or email (info@alliancepharmaco.com) away. We want to help support you so you can succeed professionally and enjoy autumn personally.