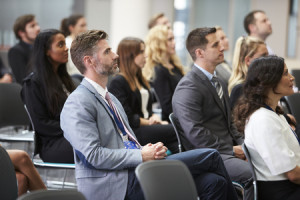 Scientific conferences provide great opportunities for learning and networking. Here are some tips to help you make the most of your attendance at one of these events.
Review conference materials. Glance over what you already know and what you could use to further your knowledge and skills. Take advantage of the sessions that will help you most. This also includes looking over any maps to know the layout of buildings, rooms and bathrooms!
Don't leave early. That last session or final meal of the event may just be the one that makes a difference for you and your company. Make sure you take full advantage of the entire schedule.
Bring business cards. Don't be afraid to hand out your business card as you meet people. Connect with these professionals over LinkedIn and Twitter as well. These conferences are great ways to make connections. Make sure to follow up with people after the conference.
Don't hide in your room! Linger a bit longer around the coffee in the morning. Stay after a session to connect with other attendees or presenters. Go early to the offered meals. If you struggle with small talk, read that local newspaper to find a topic or two to start a conversation.
Use your manners. Remember to say please and thank you to everyone from planning committee members to presenters and hotel or conference center staff, including housekeeping, food servers and beyond.
Don't be afraid to ask questions. We know conference sessions can bring even more questions to mind. We have all been reminded the only dumb question is the question not asked. Typically, if you have thought of a question, someone else in attendance is wondering the same thing. Be the one to ask the question.
Offer to present in the future. Don't be afraid to talk with conference planning committee members to see about the possibility of you presenting at a future conference! It is a great opportunity for you and your company.
Don't forget to set automatic email replies and update your voicemail recordings that you are at a conference. You want to be able to focus on the conference and not worry about returning all the calls and emails while you are away from the office. If something can't wait, make sure your updates include who can be contacted in your absence.
If you are going to any of our scheduled events, which we have listed on our website and would like to meet with us, please contact Ryan Klein at rklein@alliancepharmaco.com or call 919-801-3146. We hope to see you at one or more of the events on our 2020 schedule!