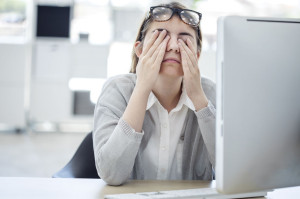 How are your eyes feeling? That's right your eyes. Yes. We focus on drug development and drug metabolism projects for small and large molecules with the goal of taking the drugs to market, but we also know it is important to encourage the maintenance of your health, just as much as our own.
As we all are turning to more screen time for our jobs and our kids' schooling, our eyes may be suffering a bit more than before. You can keep your eyes healthy – on and off of Zoom or any other screen – by following a few tips:
Take breaks! You and even your kids may feel like you need to stay on the screen just a bit longer after that meeting or required school time. Make sure you are taking and even encouraging others to use that break to rest your eyes from devices.
Adjust the screen brightness by dimming it if necessary. It doesn't always have to be the brightest!
If you are finding yourself with dry eyes from screen time or even the wearing of masks, look for over the counter eye drops to use as directed.
Purchase blue light protective lenses. They have been known to help your eyes work at their best while on devices and screens.
If you have the option, consider if that Zoom call you are about to schedule really needs to occur. Could it happen over the phone instead? Just because Zoom is available doesn't mean it has to be used for everything.
Stay current with your eye appointments, in general, to help you stay on top of any ongoing or future eye concerns.
Stay healthy with your diet, sleep and exercise regimes. Yes, these even come into play in helping your eyes stay healthy.
Want to know more about how screentime can affect your eyes, read this article which further explains "digital eye strain."
With a little extra effort, you can find your eyes working even more efficiently and helping you to not feel so exhausted at the end of your continual Zoom meetings or your children's online learning environment. It's just one more way you can be the best you!