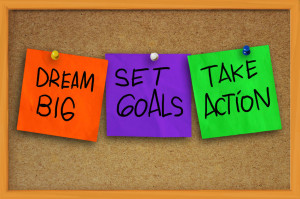 When was the last time you thought about your goals? While life can sometimes sidetrack our personal and professional goals, it is always important to keep them in mind in some way. Here are some tips to help you look at your current or future goals with fresh eyes.
We often think of making new goals or updating existing goals when January starts a new year or when another Monday starts a new week.— We don't have to wait. You may instead find that March or a Wednesday is the perfect time for revisiting or revising your goals. Then again you may never find the perfect time. Instead, you may have to make your goals a priority in your daily life as you work to better yourself.
Only you can determine what will make you better. Is it an advanced (or a college) degree? Is it a healthier life? Is it learning a new skill? Is it a more organized home or office? Is it giving back to your community in some way? Goals can be as personalized as you want them to be. Our goals don't have to be large. Small goals are important too. Sometimes it is even important to break those large goals into smaller ones. Accomplishing small milestones can be rewarding as well as a reminder of what we can truly do when we put our mind to it. Such milestones can also help us to not feel overwhelmed, especially when life sidetracks or pauses our expected timeframe.
People who are successful at balancing a lot of responsibilities and achieving their goals rarely do so alone. Ask them who helped them along the way and they likely will name their family, close friends, significant others or mentors. Find the person or groups of people who will inspire, encourage and challenge you in the hard moments of working toward your goals as well as celebrate you when you achieve your goal. Don't forget to ask for help or insight from those who have offered to support you along the way.
Here at Alliance Pharma, we hope we can inspire you to reach your goals, and we want to celebrate with you when you achieve them.