Drug development requires a myriad of testing to ensure scientists understand how a protein of interest may behave in different biologic matrices such as blood, serum, and other bodily tissues. Liquid chromatography-mass spectrometry (LC-MS) is a widely-used analytical tool in the pharmaceutical industry due to its rapid, sensitive, and isotopic-specific analyses of analytes and metabolites.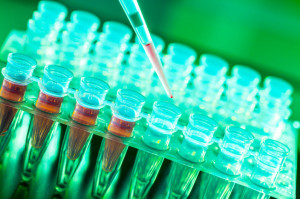 Colleagues at Alliance Pharma develop and validate LC-MS methodologies specific to what the client needs. We utilize client specific SOPs or internal SOPs to meet regulatory guidelines, and we frequently communicate with clients regarding experiment design, trouble shooting, and data interpretation. Characteristics used in our LC-MS method validation include accuracy, precision, specificity, quantification limit, linearity, recovery, matrix effect, and stability. The LC-MS method development is separated into two parts: sample extraction and instrument method development.
Sample preparation for your protein of interest can be done in multiple ways. At Alliance Pharma, methodologies such as enzymatic hydrolysis, solid phase extraction (SPE), and immune-affinity capture are regular workflows. More complicated methods can be utilized when the analyte or sensitivity call for them.
Instrument method development
For LC system setup, mobile phase, LC column, gradient, flow rate, and column temperature are the most commonly adjusted factors based on overall project time, analysis run time, and expected number of samples.
For MS system setup, ion source parameters, mass transitions monitored in multiple reactions monitoring (MRM), and collision cell parameters are commonly-adjusted factors based on expected analyte concentration and response. The goal of adjustment is to optimize analyte response while remaining free of interference. Ultimately, the LC-MS method design in tailored for the analysis type be it protein quantitation by surrogate peptide analysis utilizing MRM or intact protein analysis with high-resolution, accurate-mass (HRAM).
At Alliance, we take pride in our LC-MS method development and validation. With our comprehensive fleet of high sensitivity triple quadrupoles and HRAM instruments, we have the scientific expertise, technical skills, and instrumentation to meet your most challenging bioanalytical needs. Visit our website to see what we can do for you!