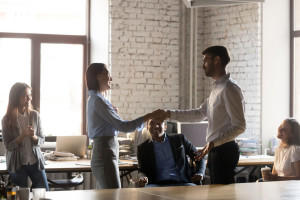 When you hear the word teammate, what do you think of? Maybe you think of an athletic team or a big sporting event, but in reality, each of your coworkers is your teammate. How you encourage each other has a lasting impact on your team's work, trust of each other and credibility.
How then can you be a better teammate?
Be encouraging. Yes there are times to point out concerns and conflict, but how you portray those aspects can still be done with encouragement. No one likes to be surrounded by negativity or continual blame and focus on mistakes. Find the encouraging parts to highlight even within those concerns.
Be kind. Kindness is a word often used but sometimes hard to put into practice. It can be as simple as using polite words of please, thank you and you're welcome. It can include greeting someone with a good morning at the beginning of the day and a have a great evening when you leave. It can be simply being patient, especially when your teammates seem stressed.
Be competent. Your role as a good teammate also includes your ability to complete your jobs and responsibilities. This can mean showing up on time and doing your job well. It also means reaching out when you are unsure of something and taking initiative when needed.
Be a team player. We can all remember group projects from our school and college experiences. Many of us cringe as we recall depending on others who only failed us or left us to handle everything on our own. As you know, being a team player is even more important in the workplace. Within those teams, take the time to realize each other's skills as well as strengths and weaknesses. Working together can result in greater outcomes.
Be clear. It is important to be clear in the expectations of the team and team members. That can involve the goals, values and timeframes within the project, large or small. This means focusing on communication of these aspects as well as communication, in general, within the team. It also means addressing conflict as it arises. Don't forget conflict isn't always bad; sometimes disagreeing on aspects can lead to more creativity and better end results.
Be thankful. As the team works together, be appreciative of the efforts of each other. That thankfulness doesn't always have to be shown in expensive ways. Often being thanked and acknowledged by other team members and management can have a lasting impact on team morale and appreciation.
Here at Alliance Pharma we know the importance of a good team. It takes all of us to make your drug development and drug metabolism project a success. Thank you for being a part of that team.