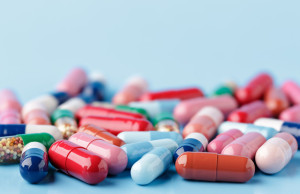 This month, we are taking the time to review our Drug Metabolism and Pharmacokinetics (DMPK) services and our suite of in vitro ADME assays. Over the next few weeks, we'll review the models we have established at Alliance, and will discuss how these tools can help you achieve your goal of taking a drug candidate to market. We hope this series provides insight and direction about how we can help you navigate the route to regulatory approval.
ADME Services
As you're likely aware, ADME stands for absorption, distribution, metabolism, and excretion and describes the disposition of a drug during its time in the body. Here at Alliance, we use our experience, expertise and state-of-the-art equipment to evaluate these individual processes for you to better predict what will happen when a drug is administered to a human being. Our services include a number of in vitro models as well as our AAALAC accredited vivarium.
Absorption and Distribution
Aqueous solubility
Cell permeability and drug transporters (Caco-2, MDR1-MDCK)
Hepatocyte uptake assays
Blood cell partitioning
Protein binding using equilibrium dialysis and ultracentrifugation (plasma, blood, tissue, microsomes, human serum albumin, and alpha-1 acid glycoprotein)
Metabolism and Excretion
Metabolic stability in various systems (microsomes, S9, hepatocytes, liver cytosol, plasma, whole blood, extra-hepatic tissue homogenates, and recombinant enzymes)
Metabolite identification and profiling
Reaction phenotyping (CYP, UGT, transporters)
Drug-Drug Interaction Studies

CYP induction (mRNA or enzyme activity assays)
CYP inhibition (direct and time-dependent with 7 major isoforms)
UGT inhibition (UGT1A1, 1A4, 1A9, 2B7)
MAO inhibition

Drug transporter substrate and inhibition assays (P-gP, BCRP, OATP1B1, OATP1B3, OAT1, OAT3, OCT1, MATE1, MATE2-K)
Our automated high throughput screening capabilities allow us to support large volumes with rapid turnaround, and our definitive assays are designed to meet FDA guidelines in support of your IND or NDA submission. Stay tuned for more from Alliance this month and ADME 101!!