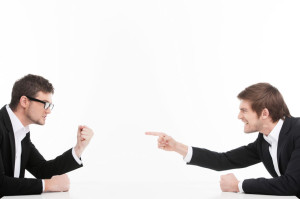 Conflict. The word alone can invoke so many emotions, especially when that conflict happens at work. You don't have to be ready to fight and run from it, even when everything inside you is screaming the opposite. In fact, you may come to appreciate conflict and what it can add to your work environment by following these tips:
Listen: You likely will start to create a conversation in your head while not truly listening to the other person, such as a co-worker or supervisor. Take the time to listen to what is being said verbally and nonverbally in the situation before you prepare your response.
Breathe: If you wear an Apple Watch or something similar that tracks your heart rate, how many times during the day does it remind you to breathe? We often don't realize we are holding our breath in stressful situations. Be mindful of your breathing during a conflict. Actually, you may want to be even more intentional about it.
Be Kind: The most heated topics can bring on strong emotions in us. Still, be kind in your conversations, whether they are in email, phone calls, Zooms, offices or conference rooms.
Take Time: You don't have to respond right away. You can tell the other person you need some time, especially if you are more of an introvert and need that time to pull together your thoughts to articulate them clearly. Sometimes it is best to compose an email draft with all your thoughts and then review that draft before sending or preparing for a conversation.
Consider the Situation: Not all places are appropriate for continuing such a conversation, whether that is in the workplace, social media or even in the home. Consider if the situation warrants continuing the conflict at that time or if it should simply be ended, moved to a different place or even brought up to someone else. Just because you are "invited" into a conflict, doesn't mean you have to continue to participate. However, maybe that conflict is also a reminder that you need to work at finding and expressing your own voice. Just as every interview is a learning experience, so is every interaction with conflict, even at work.
Think outside the box: Disagreements can lead to larger conflict, but they can also lead to new great ideas within your office. The questions you are asked and opposing thoughts you are offered may just lead to that next great idea as you work together as a team because your teamwork is more important than the conflict itself.
Here at Alliance Pharma, we look forward to hearing about your next great idea as your team works together more effectively through these tips.